SOUTHERN STARS: AN EXPLORATION OF LATIN AMERICAN ART
Art Paris Art Fair, Grand Palais, Paris, 03.04 – 07.04.2019
In 2019, Art Paris is setting out to explore Latin American art from the 1960s to the present day. Around twenty European, Asian and Latin American galleries are presenting an ensemble of 60 Argentinean, Brazilian, Chilean, Colombian, Cuban, Mexican, Peruvian and Venezuelan artists. In parallel, other projects such as a video programme, site-specific installations, the presentation of a private collection and conferences at the Maison de l'Amérique latine will highlight the creative effervescence that reigns on the continent.
Curator: Valentina Locatelli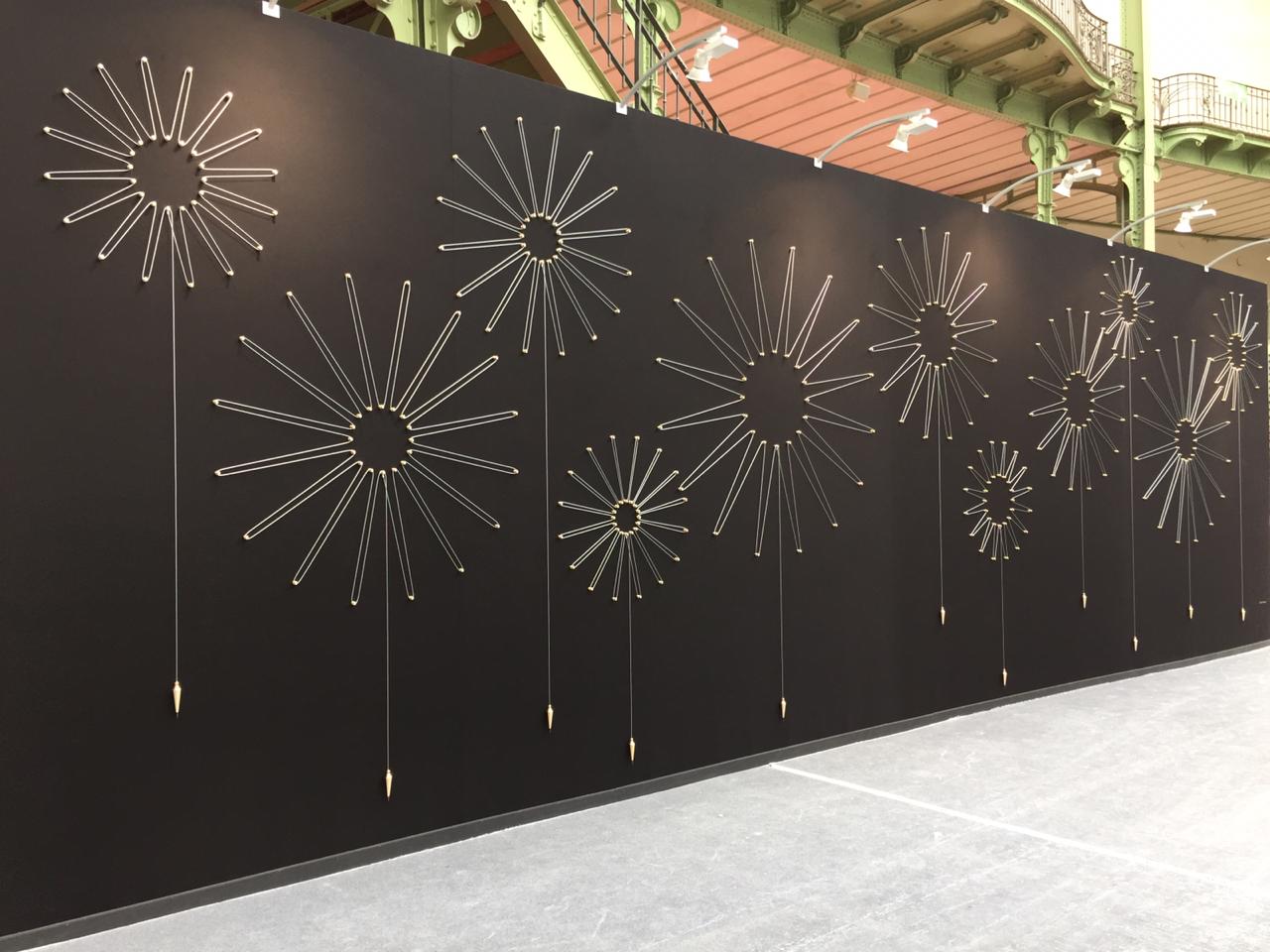 Installation views: Project Room (Video Art) and site-specific installations by Betsabeé Romero (A Requiem to the Polluting Car, 2019), Ricardo Rendón (Somos Constelaciones, 2019), Marcelo Brodsky (The Poetics of Resistance, 2019) and Stinkfish (Niña bogotana de espinas, 2019). © The artists. Photos by Valentina Locatelli
A historical and contemporary journey of discovery through Latin America's art scenes
Galleries spread throughout the fair's different sectors invite visitors on a journey of discovery through Latin America's different scenes, considering them from both a historical and contemporary point of view.
Galería Freijo is focusing on two historical figures from the Mexican scene, abstract sculptor and co-founder of Stridentism Germán Cueto and Felipe Ehrenberg, a leading light in the field of Mexican conceptual art in the 1970s. Numerous galleries are showcasing the work of the proponents of geometric abstraction from the 60s and 70s, including Carlos Cruz-Diez (Venezuela), Ivan Contreras-Brunet (Chile), Darío Pérez-Flores (Venezuela) and Marino di Teana (Argentina). Women artists are also in the spotlight with solo shows featuring Leonor Fini, a surrealist painter born in Buenos Aires (Weinstein Gallery/Galerie Minsky); Mexican artist Carmen Mariscal, whose work addresses questions of gender and female stereotypes (Ana Mas Project); and Sandra Vásquez de la Horra, a Chilean artist who is the subject of a mini-retrospective at the Wooson Gallery featuring her drawings that touch on questions of sex and religion.
The Cuban scene is the subject of a group exhibition at the Xin Dong Cheng Gallery, which brings together six artists from different generations: Manuel Mendive, Raúl Martínez, Adonis Flores, René Francisco Rodríguez, Michel Mirabal and Yunier Hernández Figueroa.
Two galleries Nosco and Galerie Younique are showcasing the young Peruvian scene with emblematic figures such as José Carlos Martinat and José Luis Martinat, two brothers who are famous for their installations that question the past and the present of post-colonial societies. La Balsa Arte (Bogota/Medellin) is presenting a dialogue between the works of three figures from the Colombian scene with drawings (Juan Osorno), paintings (Julian Burgos) and installation art (Luis Fernando Peláez), whereas Galería Solo/Eva Albarran & Christian Bourdais has given over part of its space to Carlos Amorales, a major figure on the Mexican scene who works in different media such as video, installation art, photography and paper.
Installations
In front of the entrance to the Grand Palais, visitors are welcomed by a monumental installation by Mexican artist Betsabeé Romero (Galerie Saro León), which evokes a requiem in memory of that symbol of 20th century consumer society, the polluting car. In the nave, the CCK (Centro Cultural Néstor Kirchner) from Buenos Aires, in collaboration with the Institut français d'Argentine, presents El verdadero jardín nunca es verde, an installation created by the Argentinean artist Nicola Costantino and inspired by The Garden of Earthly Delights by Hieronymus Bosch. Three artists, Marcelo Brodsky from Argentina (Galerie Artco), Colombian artist Stinkfish (Galerie Ernst Hilger) and Ricardo Rendón from Mexico (Galerie Wenger) will produce monumental compositions for the south and north walls of the nave.
Private Collection
As part of the focus on Latin America, Art Paris 2019 is hosting a selection of works by Latin American women artists from the collection of Catherine Petitgas.
Catherine Petitgas is a London-based collector, patron of the arts and art historian specialising in modern and contemporary Latin American art. She heads up the Franco-British Fluxus Art Projects initiative and is also a member of the Tate Latin American acquisitions committee and the Centre Pompidou International Council. She was executive editor of Contemporary Art Brazil, Contemporary Art Mexico and Contemporary Art Colombia.
The Project Room: Contemporary video art from Mexico, Colombia, Peru and Argentina (2000-2018)
The Project Room provides a forum for 16 Mexican, Colombian, Peruvian and Argentinean artists from different generations to present their videos around four themes:
• The city and the Flâneur: videos by Sarah Minter, Julián Sorter, Angie Bonino and Ana María Montenegro Jaramillo.
• Bodies in Crisis: videos by Miguel Calderón, Gabriela Golder, Carolina Bazo and Adriana García Galán.
• Fading Memories: videos by Teresa Serrano, Ana Gallardo, Diego Lama and Juan Manuel Echavarría.
• Resilient Nature: videos by Julio César Morales, Matilde Marín, Ishmael Randall-Weeks and Carolina Caycedo.
With the support of Vidélio
Conferences at the Maison de l'Amérique latine (April 5, 2019)
Two panel discussions will address the place of Latin American women artists on both the French and international art scenes.
4 p.m. – 5:15 p.m.: Latin American women artists in France, a panel discussion chaired by Valentina Locatelli, guest curator for the Art Paris 2019 focus on Latin America, with Mexican artist Carmen Mariscal, and Ecuadorian artist Estefania Peñafiel Loaiza. Conversation in French.
5:30 p.m. – 6:45 p.m.: presence and visibility of Latin American women artists in the world of contemporary art, a panel discussion chaired by independent exhibition curator and former director of the Daros Latin America Collection (Zurich) Hans-Michael Herzog with curator, art historian and former senior curator at the Museum of Contemporary Art de Los Angeles, Alma Ruiz, modern and contemporary Latin American art specialist, art historian, collector and patron of the arts Catherine Petitgas and Mexican artist Betsabeé Romero. Conversation in English followed by a performance of Carolina Ariza and Linnett Hernández: Olokun ou l'eau dans l'œuvre d'Ana Mendieta.
With the support of the Maison de l'Amérique latine